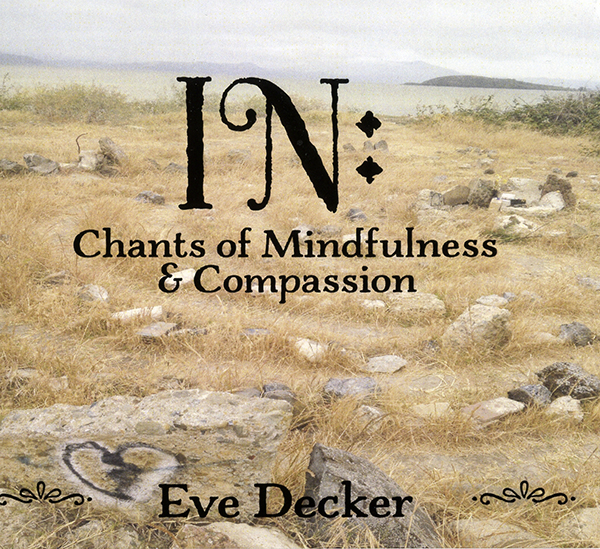 NEW 2015 RELEASE! Songs and chants that bring your attention inside to a place of mindfulness and compassion. Produced and arranged by Julie Wolf. To purchase, email info@evedecker.com
First song on IN: Chants of Mindfulness and Compassion: Pali Metta Chant
This chant is written in Pali, the language that was spoken in north India at the time the Buddha was alive. Pali is not spoken by regular folks anymore, but the language has been kept alive by Buddhist monastics.
Second Chant on "IN: Chants of Mindfulness and Compassion" – I Have Arrived
"I have arrived. I am home. In the here and in the now. I am solid, I am free. In the ultimate I dwell" – Thich Nhat Hanh. This teaching from Thich Nhat Hanh, put to music by a friend of mine, Betsy Rose (www. Betsyrosemusic.org), speaks to what wonderful thing can and does happen when we take the time to learn and practice mindfulness. Mindfulness is the practice of directing the mind away from thought and into investigating and appreciating the present moment.
Third Chant on IN: Chants of Mindfulness and Compassion – May We. When I began learning the Buddhist lovingkindness phrases, sometime in the early  1990's, I was initially taught these basic phrases: May you be safe. May you be happy. May you be healthy. May you be at ease. I learned that we send them to different categories of people. First ourselves, then a benefactor, then a friend, then a neutral person, then a difficult person, then all beings.
The fourth song on the new CD, "IN: Chants of Mindfulness and Compassion", is called My Grateful Heart. It was written by Laura Fannon, a member of the Threshold Choir (groups of mostly women who sing at the bedsides of the dying). The words are: My grateful heart, so filled with years of living Memories flow by me, like petals on a stream My grateful heart, forgives so many sorrows Brings peace that lasts forever Illuminates the dream.