Third Song on IN: Chants of Mindfulness and Compassion – May We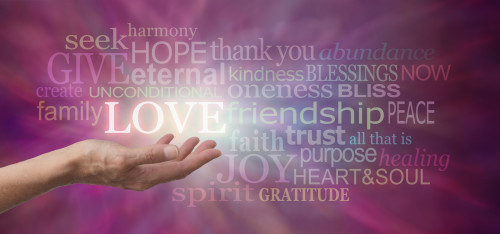 Third Chant on IN: Chants of Mindfulness and Compassion – May We
When I began learning the Buddhist lovingkindness phrases, sometime in the early  1990's, I was initially taught these basic phrases:
May you be safe
May you be happy
May you be healthy
May you be at ease
I learned that we send them to different categories of people. First ourselves, then a benefactor, then a friend, then a neutral person, then a difficult person, then all beings. The idea, in sending these phrases over and over again to these different beings, is that we increase our own capacity to experience and express lovingkindness.
Later I learned that there are longer phrases, and variations on the phrases, and we students were invited to create phrases that allowed us the most personal resonance. After attending two eight day lovingkindness retreats, in which we were saying the phrases for 12-16 hours a day, I honed the phrases to become something I really meant, and longed for. They were (and still are):
May you be safe and protected from inner and outer harm (inner harm being any unkindness delivered by our own minds)
May you be truly happy and deeply peaceful
May you be healthy and strong, and physically at ease
May you take care of yourself, and live with well being
Having claimed these as my lovingkindness phrases, I practiced with them for years.
Recently, I was scheduled to teach at East Bay Meditation Center. As per my normal teaching style, I was planning to bring my guitar and intersperse my dharma talk with dharma-themed songs. My partner Diane had suggested that I write a song about lovingkindness (I had already co-written a song on this theme for my CD 'Commentaries on Perfections of the Heart', but it is lengthy and involves a lot of verses; I wanted something with repeating phrases that people could learn relatively quickly). The thought came to my mind – why not add music to my existing phrases? So I sat down with my guitar, and May We was born. I shared this musical version of the lovinkindness phrases with my class at East Bay Meditation Center that night, and have been sharing it with all my classes since then.
CD RELEASE CONCERT AT THE FREIGHT AND SALVAGE!
Saturday September 26, 2015 8PM
www.freightandsalvage.org (Berkeley, CA)
Join Eve Decker, Julie Wolf, Kent Welsh, Ben Decker and other special guests
Celebrating the Release of Eve's New CD, IN: Chants of Mindfulness and Compassion
Click here to purchase tickets ($21 adv./$23 at door)
With Special Guests!
Vocal Activist Melanie DeMore
Spirit Rock teacher Donald Rothberg
Buddhist teacher and performer Nina Wise
Musician and Activist Betsy Rose
Members of the Threshold Choir (choirs of women who sing at the bedsides of the dying)
"Eve's songs–the music, the words, and most of all her voice–comfort and embrace." – Sylvia Boorstein, founding teacher, Spirit Rock Meditation Center
"T O T A L L Y B E A U T I F U L ! ! ! The songs are gorgeous!!!" – Larry Yang, founding teacher, East Bay Meditation Center
"An original musical transmission of the dharma. Deeply moving and transformative. And blessed with Eve's emotionally transparent voice and exquisite musicians. This is music that heals. I know I will be listening to it daily!" – Jennifer Berezan, singer/songwriter and activist