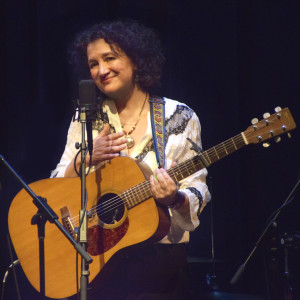 "Eve's songs–the music, the words, and most of all her voice–comfort and embrace." – Sylvia Boorstein, founding teacher, Spirit Rock Meditation Center
"T O T A L L Y B E A U T I F U L ! ! ! The songs are gorgeous!!!" – Larry Yang, founding teacher, East Bay Meditation Center
Click below to hear Eve's song 'Loved', on this new 10 song CD created to support & deepen practices in mindfulness & compassion. 
You Are Loved by Eve Decker

- Eve Decker
Dear Friend,
I hope this finds you well amidst all.
I  offer you the work that I began years ago in order to bring myself and others peace –  practices in mindfulness and kindness, through dharma talks, discussion, group exercises, music, and poetry – which bear the fruit of insight, self acceptance, and compassionate action. I would be very happy and honored to see and spend time with you at any of the below events.
With many good wishes, Eve
Events with Eve Decker, Jan-June 2018
Sundays January 14, Feb 11, March 11: East Bay Meditation Center Family Sangha. 10-12:30; Oakland. Eve Decker, Michele Ku, Shahara Godfrey and others lead a beautiful morning of practice for families with children up to age 14. By donationl to register to to www.eastbaymeditation.org
Sundays January 21, April 15: Woodacre, Spirit Rock Family Day 10:30am-3pm. Eve Decker and Wil Kabbat-Zinn lead a beautiful day of practice for families. Register early! http://spiritrock.org/
8 Mondays February 5-March 26: Lovingkindness For Self Class 7-9pm, Oakland. NEW! FREE PREVIEW CLASS, MONDAY JANUARY 29. SAME TIME, SAME LOCATION AS THE 8 WEEK CLASS THAT FOLLOWS. PLEASE JOIN US TO SEE IF THIS GROUP FEELS LIKE A FIT FOR YOU! Practices and support to increase our capacity to love and care for ourselves – crucial skills for well being. Songs and practices on mindfulness, intention, lovingkindness, compassion, gratitude, forgiveness, transforming judgments, and equanimity. $250-400 sliding scale. Location provided upon registration. Info@evedecker.com
 "I am so grateful to be part of Eve's Lovingkindness for Self Group!!  It has been one of the deepest and most uplifting groups I have participated in. Eve's incorporates her music, which is such a gift and brings in so many wonderful heart practices that she herself has used over the years that truly deepen Lovingkindness for Self. Each week we come together and what I feel is deep is gratitude to have found this group. Thank you Eve!" –group participant
8 Wednesdays February 7-March 28: Deepening Sangha Class for experienced students. 7-9pm, Oakland. If you have already taken classes from Eve or have a background with mindfulness experience, and you would like to deepen practice in caring, like minded sangha, please join us.  This season's topic: The Four Noble Truths. The Buddha taught four 'truths' that include practices and states which lead to freedom. Together we will study and practice them all! $250-400 sliding scale. Location provided upon registration. Info@evedecker.com
Thursdays – Every 4th Thursday January 25, 2/22, 3/22, 4/26, 5/24: Berkeley Sit and Sing Sangha, 7-8:30pm (drop in welcome) Guided mindfulness and lovingkindness practice followed by singing from a songbook Eve has compiled of folk songs and chants on themes of mindfulness and compassion. In a private home with a small friendly dog and steps to entrance. Suggested donation $20 no one turned away for lack of funds. Contact info@evedecker.com for address.
Sundays – Every 4th Sunday beginning in February – 2/25, 3/25, 4/22, 5/27, 6/24: Sonoma Mindfulness Group 4-5:30pm (drop in welcome) Instructions and practice in mindfulness and lovingkindness. With music; sing along or just listen. 252 West Spain Street, Sonoma. $15 suggested donation no one turned away for lack of funds.
Individual dharma sessions available with Eve Eve incorporates practices in mindfulness, lovingkindness, gratitude, compassion, and more into many of her individual sessions.  By donation, sliding scale suggested. info@evedecker.com 
"IN: Chants of Mindfulness and Compassion" – Listen and Buy Here: http://www.cdbaby.com/cd/evedecker4
Eve's voice singing the Dharma… reached me deeper than words have ever been able to reach. The energy I felt was a connectedness to all things. Compassion and letting go resonated deeply though my body… By adding her musical abilities to her toolkit of experience Eve Decker is an insightful Buddhist teacher and talented artist. – Janet Etter, Victoria Insight Center, Canada
Eve's songs are often just what I need to remind myself of the truth inside. They've been a big part of my daily life practice to inspire and open my heart. I love Eve Decker's music!   – James Baraz, founding teacher of Spirit Rock Meditation Center, creator of the Awakening Joy course and author of "Awakening Joy."
Photo of Eve by Irene Young