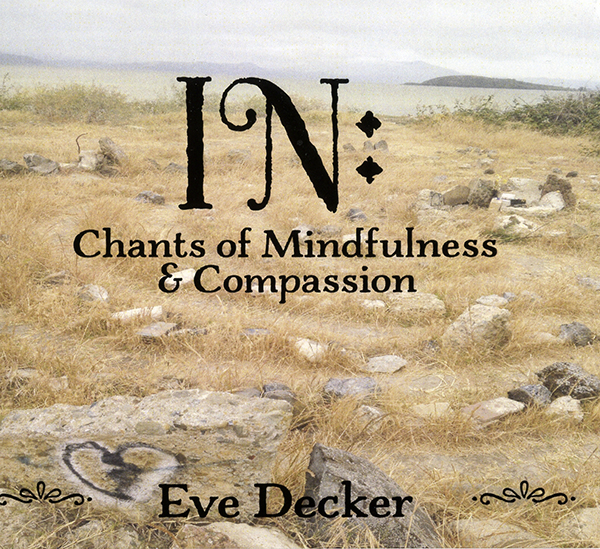 "IN: Chants of Mindfulness and Compassion" – Listen and Buy Here: http://www.cdbaby.com/cd/evedecker4 
Eve's new 10 song CD created to support & deepen practices in mindfulness & compassion. All songs produced & arranged by Julie Wolf.
You Are Loved by Eve Decker

- Eve Decker
Inspiring, soothing urban folk with gorgeous vocals and fabulous, enlivening instrumentation. A must if you want to be uplifted. Produced by Julie Wolf, keyboard player with Indigo Girls, Ani DiFranco, Carly Simon, and Bruce Cockburn.

Genre: Folk: Singer/Songwriter

Release Date: 2014

Produced by
 Julie Wolf
Title Cut produced by Jennifer Berezan
Listen & Buy on CD Baby
Listen & Buy on Amazon
Listen & Buy on iTunes
Folk pop original renditions of the ten Buddhist qualities that lead to contentment. Melodic and warm, 
full of beauty and joy, 
Commentary on Perfections of the Heart
 is a folk-rock song cycle based on the Buddhist paramis, qualities that bring happiness to the heart.
Eve Decker is a founding member 
of the nationally acclaimed feminist 
folk trio Rebecca Riots. Conceived while she was on a three-month silent retreat in 2003, the songs on 
Commentary on Perfections of the Heart
 reflect Eve's lifelong desire to create music that awakens compassion and eases suffering.

Commentary on Perfections of the Heart was produced by Eve and Ben Decker, and features performances by Lisa Zeiler and Andrea Prichett (Rebecca Riots), Patty Spiglanin (Naked Barbies), Kathy Kallick, keyboardist Julie Wolf (Indigo Girls, Bruce Cockburn, Ani Difranco), guitarist Nina Gerber (Kate Wolf, Jerry Jeff Walker, Karla Bonoff), mandolin player Mike Marshall (David Grisman, Bela Fleck, Yo Yo Ma, Chris Thile), percussionist Michaelle Goerlitz (Wild Mango, Blazing Redheads), drummer Michael Urbano (John Hiatt, Sheryl Crow), and others.
Listen & Buy on CD Baby
Listen & Buy on Amazon
Listen & Buy iTunes